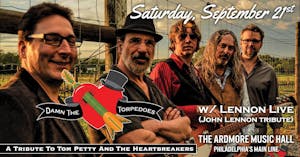 Damn The Torpedoes (Tom Petty Tribute)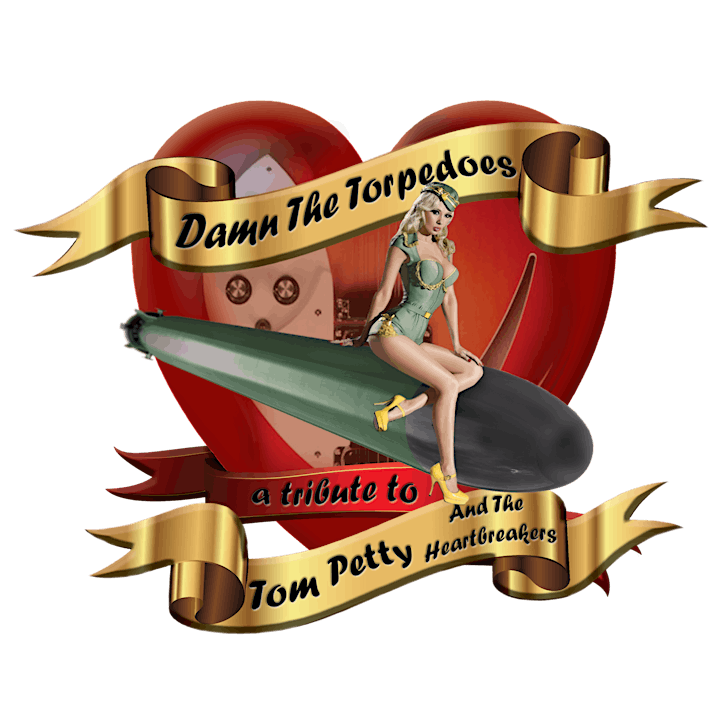 DAMN THE TORPEDOES (TOM PETTY TRIBUTE):
Rich Kubicz, who plays the role of Tom Petty in the show, has been playing guitar and singing since his early teens. By 2007, so many people had told him that he looked and sounded like
Tom Petty that he decided to put together Damn The Torpedoes as a tribute to Tom Petty and the Heartbreakers.
The goal was to play all of the studio hits, some of the live versions and a few deep cuts to create the illusion of a Tom Petty concert performance. This meant that each band member
would need to find the same sounds as on the records and play their parts note for note.
Over the years Damn The Torpedoes has evolved with a deeper understanding of the Tom Petty catalog and more committed members. The current lineup has been in place for several years
and demonstrates the unspoken chemistry that makes any great band. All of the signature riffs, harmonies and underlying parts of the music are there---and the show has become "second
nature" with an artistry and emotion that makes audiences smile. Or as Rich likes to say, we deliver the "awe factor" in every performance.
Jimi Alan
(Mike Campbell… Lead Guitar)
Jimi has been playing guitar professionally for over 30 years in cover band and original music projects. With experience in various styles of music including Funk, Rock, Blues, and R&B, Jimi has mastered the techniques to play note for note renditions of some of the greatest lead guitarists and can create
identical guitar sounds. Jimi is also an experienced sound technician and recording engineer.
Gary Castelluccio
(Benmont Tench/Scott Thurston… Keyboards, Piano, Guitar, Harmonica, Backing Vocals)
Gary has been involved with music and performing since the age of 13. He started with guitar and later learned to play keyboard and harmonica. Over the years, he has played in cover bands, original projects and studio sessions. His experience and versatility has helped him to become a consummate side man
adding support and color to the bands he works with. His music projects have allowed him to travel world wide as a Music Industry professional. He has also helped Musical instrument companies to develop many new products that are sold today in music stores everywhere.
Jon Provan
(Ron Blair/Howie Epstein, Bass Guitar and backing vocals)
Jon caught the music bug young, playing and singing in rock bands, a cappella groups, sax quartets, theatre pits, recording studios and more. He's also laid down his bass groove for many
Indie and original bands. When not on stage with DTT, Jon is the musical director at a theater, a solo artist and a theatrical performer.
Ross Kantor
(Stan Lynch/Steve Ferrone...Drums/Percussion and Backing Vocals)
Ross is the quintessential percussionist and the driving force behind DTT's tight rhythm section. His versatility allows him to play with the finesse of Stan Lynch and the power of Steve Ferrone while also adding polished vocals to an already very melodic harmony section. When Ross isn't playing with DTT, he is an in-demand drummer for live events, indie bands and
studio sessions.
Lennon Live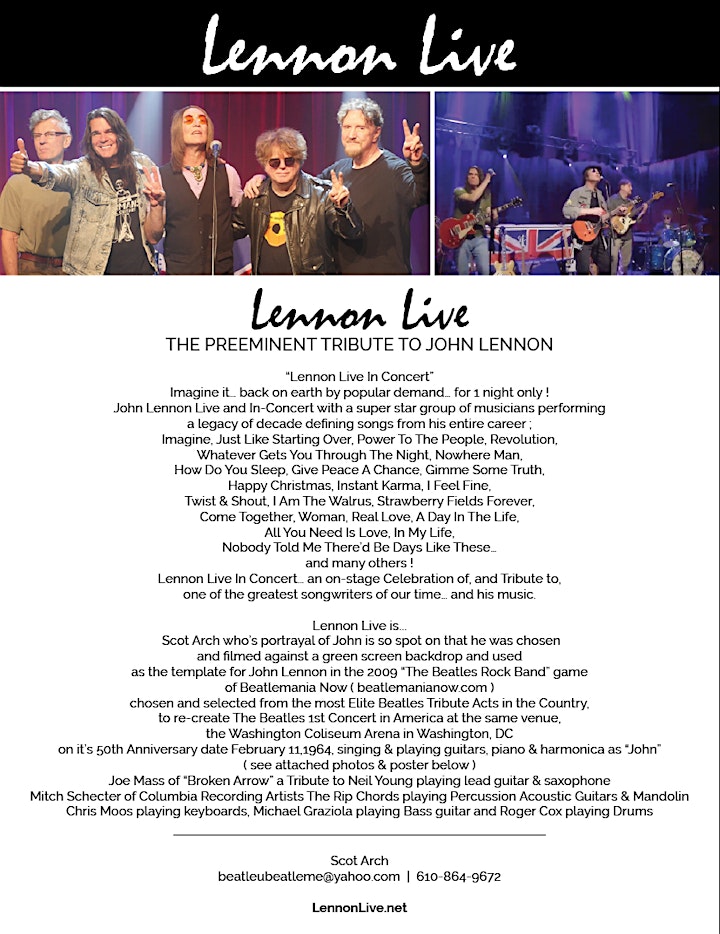 LENNON LIVE (JOHN LENNON TRIBUTE):

Imagine it....Back on Earth by popular demand....for 1 night only!

John Lennon with a rockin' band...up close and personal, at your favorite concert venue to take you through his life and songs (from beginning to end)... "LENNON LIVE"!

About Scot Michael Arch (vocals, electric guitars, acoustic guitars, harmonicas & keyboards):

Having grown up in the Delaware County suburbs of Philadelphia, Scot spent many hours in the recording studio with The Arch-Parker Band, an aspiring original Act hoping to score a recording contract, as well as performing in numerous local club-party bands such as Panik, Jellyroll and an "unplugged" incarnation of Egdon Heath. Expanding his horizons, Scot then performed with original cast members of "Beatlemania", the Tony Award winning Broadway show from the 70's/80's. He then began to produce and perform in his own presentation, "Beatlemania Now"... a tribute to the 60's and the group that shaped them... the Beatles... a reprise of the aforementioned "Beatlemania", which he of course continues today.

Scot and "Beatlemania Now" have performed throughout Cities in the United States and in countries as far away as Moscow, Brazil, Uraguay, Argentina, Panama, Curacao, Mexico and Spain, and have shared the stages with Artists such as Billy Joel, Cheap Trick, America, Wilson Pickett, Cinderella, The Hooters, Felix Cavelieri of the Rascals, Blood Sweat and Tears, Mitch Ryder of the Detroit Wheels and The Rip Chords just to name some.

In 2014 Scot and "Beatlemania Now" were chosen and selected from the most Elite Beatles Tribute Acts in the Country, to re-create The Beatles very 1st Concert in America on it's February 11, 1964 50th Anniversary, at the Washington Coliseum Arena in Washington, DC. In doing so Beatlemania Now followed Tommy Roe, the "Opener" from the original 1964 Concert, and performed to another "Sold-Out" crowd at the very same Washington Coliseum. This celebration Event was covered by and on News Outlets of all types throughout the World.

Scot's portrayal of John is so spot on that he was chosen and filmed against a green screen backdrop and used as the template for John Lennon in the 2009 "The Beatles Rock Band" game.

Scot is a devoted vintage guitar collector and plans have been in the works to publish a book featuring his world renowned collection of more than 100 guitars.

Venue Information:
The Ardmore Music Hall
23 East Lancaster Ave
Ardmore, PA, 19003