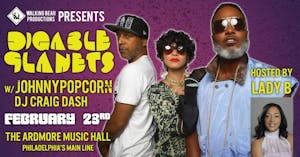 Presented by Walking Bear Productions
Digable Planets
Johnny Popcorn, DJ Craig Dash, Hosted by Lady B
$39.00 - $59.00
Sales Ended
Brooklyn hip hop legends. Seated tickets available!
Digable Planets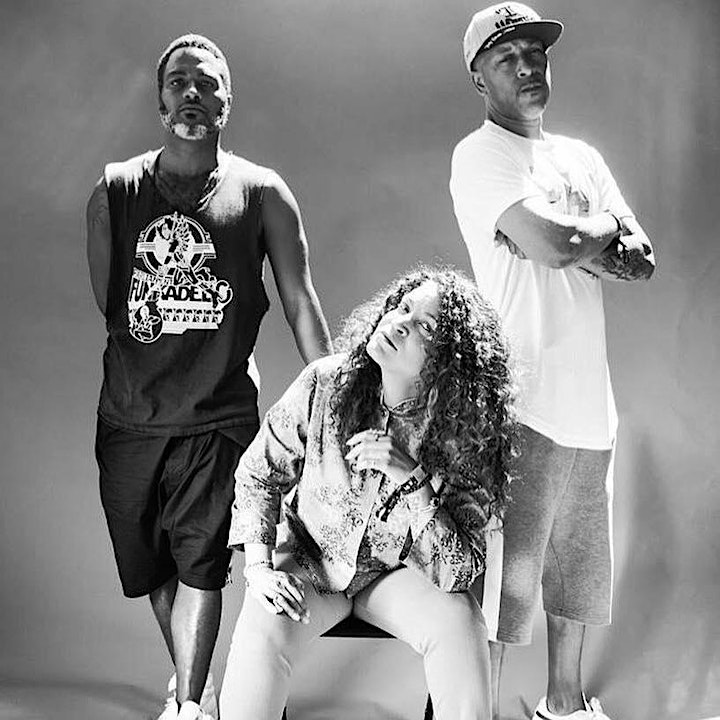 You know the song...like that. You know the style...like that. You remember the sound...like that.
Digable Planets. Butterfly. Doodlebug. Ladybug Mecca. Each with their own distinctive flow.
Butterfly (Ishmael Butler) with his Huey P Newton aura matched with agile, fluid lyrics like a Sonny Rollins solo verbalized.
Doodlebug (Craig Irving) with Five Percent Nation scientifics, intellectual punchlines, and a battle emcee's spirit.
Ladybug Mecca (MaryAnn Santos Vieira), with a voice so distinctive, so clear, so smooth, not only does her voice sound melodic, you still hear little bits of her playful delivery inside of current emcees as varied as Nicki Minaj and Rapsody.
Before The Fugees took the concept of a two male female emcee hip-hop trio to another level, Digable Planets originated the trend, altering the course of hip-hop history, erasing norms of what "crossover" hip-hop sounded like while winning the respect of jazz and funk musicians with the deep musicality of both their albums, 1993's Gold "Reachin' ( A New Refutation Of Time and Space)" and 1994's "Blowout Comb".
Their biggest hit, "Rebirth of Slick (Cool Like Dat)" is one of those unforgettable songs that you can't unhear. The thumping bass, the smooth voices, the Blue Note horns, are something that hip-hop hasn't experienced before...or since. It still pops up, in commercials, regular rotation on Sirius XM's "Rock The Bells" and "Fly", Virgil Abloh's Louis Vuitton couture runway shows in Milan, even in popular television shows like Netflix's Emmy winning "Masters Of None."
"Rebirth of Slick" earned the group a Grammy for Best Rap Performance by a Duo or Group, and a worldwide presence.
They could have easily rested on their laurels, but instead made "Blowout Comb", a record so ahead of its time it deserves a spot next to albums it predated by several years: Black Star's "Mos Def & Talib Kweli are Black Star", Dead Prez "Let's Get Free" and Childish Gambino's "Awaken My Love". That was the problem: in terms of sound, style and politics, it was ahead of what the audience was expecting and the record label's ability, pre-social media—to cultivate and harness.
So they broke up...like that. And drifted apart like that. And went home. Butterfly created the Seattle hip-hop group Shabazz Palaces, Doodlebug founded the Philadelphia based Cee Knowledge & The Cosmic Funk Orchestra, and Ladybug created BROOKZILL! with Prince Paul, Don Newkirk, and Rodrigo Brandao. They each enjoyed solo success, and released the 2005 Compilation "Beyond The Spectrum: The Creamy Spy Chronicles" and made a 2011 appearance at Toronto's NXNE's festival, but no matter where they went, on a daily basis, they were confronted with the same question: When are y'all getting back together and coming out with new music.
So like Aerosmith, The Eagles, Fleetwood Mac, and A Tribe Called Quest, they realized they still had things to say and music to make together. In a hip-hop landscape bereft of melody and thoughtful lyrics, they've been re-discovered by a whole new generation of hip-hop fanatics clamoring for the golden age, as well as older rap fans dying to re-capture "real" hip-hop.
So they've been touring...like that. Hitting the stage in Brazil. Paris. Berlin. Sydney Australia. New York, Chicago. Los Angeles. Portland. Seattle. Slaying crowds with a live band, as well as making new music. They look like themselves, they sound like themselves...they're still Digable.
They're ready. And so are their fans. All over the planet. What's old is suddenly new.
Like that.
Johnny Popcorn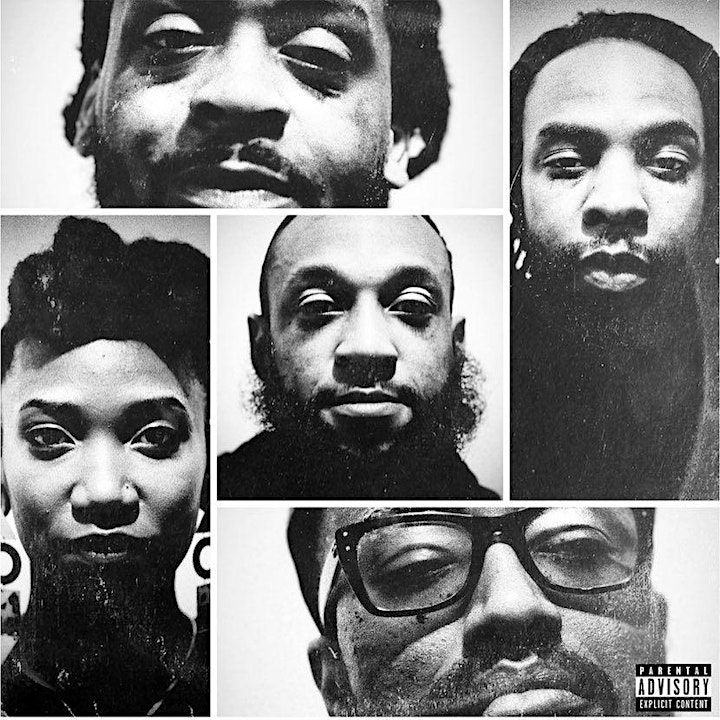 Philadelphia's Johnny Popcorn is a five-man rock band comprised of Lloyd Alexander on guitar, Rah Sungee on bass, Clayton Carothers on drums and vocals from Hezekiah and Jani Coral.

Initially, Johnny Popcorn was founded by producer/bassist Tone Whitfield (Me'shell Ndegeocello and Zap Mama) and songwriter/emcee/producer Hezekiah after several late nights working on Bilal's Air Tight's Revenge album. Their early works were pet studio projects released causally to music fans at live shows and digital downloads.

Hezekiah feeling stagnant in hip hop started to devote more time to Johnny Popcorn. Hezekiah started to recruit musicians to form a touring band which included guitarist Lloyd Alexander. The band solidified when Virginia native Jani Coral added her raspy like vocals and soon after followed by Carothers and Sungee.

Building a solid fanbase with releases like 2012's "The Crow" and the recently re-released "Totem Pole" JP continues to push boundaries in terms of music, content, style, and imagery.

Now with an innovated sound and direction, Johnny Popcorn continues to ignite live shows and record emotional driven songs. Johnny Popcorn has opened for Bilal, Mos Def, Talib Kweli, RJD2, Robert Glasper Experiment, Oddisee, Ladi6, and Kindred & the Family Soul.

With two new projects slated for 2019, as well as a multi-city tour, JP is set to make some real waves. Look out for them in a city near you.

Venue Information:
The Ardmore Music Hall
23 East Lancaster Ave
Ardmore, PA, 19003